Gianduja With Piedmont Hazelnuts Chunky Bar 200 g
200g milk chocolate gianduja bar with whole Piedmont Hazelnuts. Creaminess meets the crunchiness of toasted hazelnuts.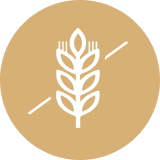 Gluten Free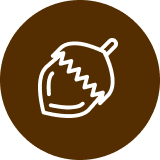 Only with whole "Piedmont Hazelnut"
£15.00
A milk Gianduja bar (200 g) with whole hazelnuts. The use of whole, toasted Piedmont hazelnuts - selected and crafted by our chocolatiers - is what makes this chocolate bar so special. The crunchiness of the hazelnuts gives a nice contrast in texture to the intensely creamy and soft gianduja base. The hazelnut flavour is thus explored by increasing levels of intensity: from the light and soft taste of the gianduja base, to the intensely nutty one of the actual hazelnut. This Gianduja bar pairs well with dry, white wines that balance out its buttery, creamy texture. The same recipe is available also in a 80 g Gianduja Bar version.

FREE SHIPPING
for orders above 59£

FAST AND SAFE SHIPPING
dispatched in 2-5 working days in an isothermic container

'GIANDUJA' NUT MILK CHOCOLATE (COCOA SOLIDS: 24% MIN., MILK SOLIDS: 12.5% MIN.) WITH WHOLE HAZELNUTS. GLUTEN FREE INGREDIENTS: Piedmont HAZELNUT paste 25.7%, Piedmont HAZELNUT 23.0%, Sugar, Cocoa butter, Whole MILK powder, Cocoa mass, Anhydrous MILK fat, Emulsifier: SOY lecithin, Natural vanilla flavor. MAY CONTAIN TRACES OF OTHER NUTS.
Nutritional values
per
100
g